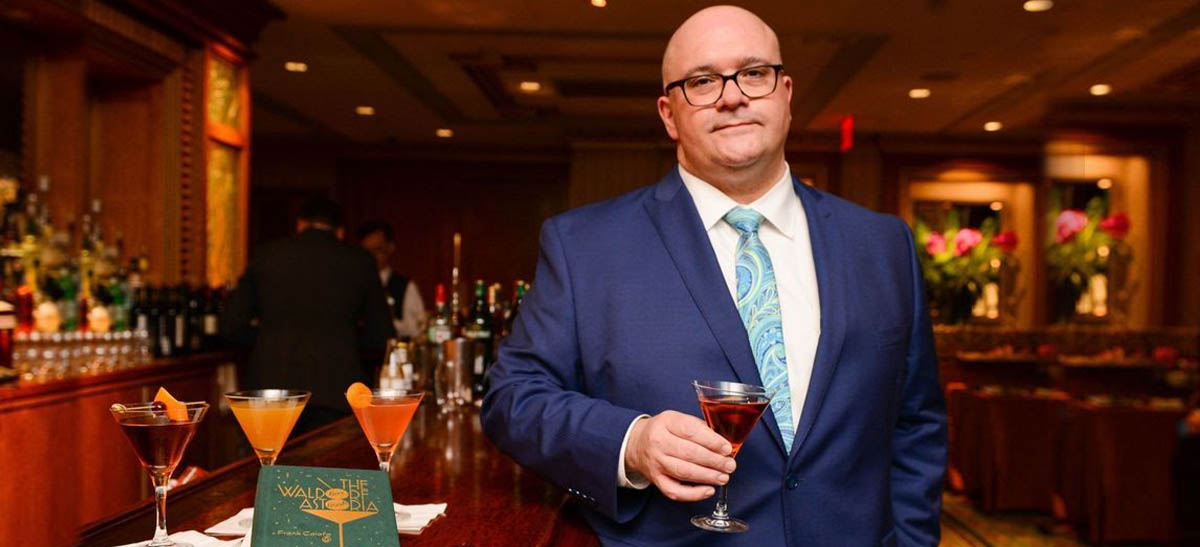 27/12/2021 Frank Caiafa - Author of The Waldorf Astoria Bar Book, a James Beard Award Nominee
Tell us a little bit about yourself. How did you begin your career and how did you progress into this role?
It wasn't too long after this role as an opening Beverage Director and Bar Manager that I was given the opportunity to reopen the iconic Peacock Alley at The Waldorf Astoria. This was, of course, the equivalent of a Ph.D. in Service, Hospitality, and all things Food and Beverage. After a few years of focusing solely on my hotel career, I was able to begin a Beverage focused Consulting Entity (Handle Bars NYC Inc.). This venture allowed me to expand my interests while meeting new business contacts and helping colleagues that I had encountered through the years with their current operations.
Ultimately, back at The Waldorf Astoria and at a career crossroads, I half-jokingly put out the idea of revising the Waldorf Astoria's famed cocktail books. The moral of that story is, be careful what you ask for - you may get it. I was given the chance to overhaul and update the iconic Waldorf Astoria Bar Book, and I am seriously very proud of the result and its subsequent James Beard Award nomination. I'm also proud that prior to the hotel's closure for renovations, we were able to open one of the world's premier, authentic Chinese restaurants (La Chine) which was another learning experience that I am beyond grateful for.
After the hotel's closure, I took the time to expand my consulting business and travel, which I rarely did while at the hotel. I then had the opportunity to open a new bar in another iconic hotel, The Lexington. I am also very proud of the work that we did launch The Stayton Room there, but the Covid-19 pandemic cut its potential short of reaching whatever peaks that we would have reached.
[[relatedPurchasesItems-31]]
Define your role and the tasks involved in your role.
As a consultant with not only profound experience in a beverage but also with varied concepts and hospitality in general, potential clients realize that I bring more to the table than fresh drink recipes and a training program. Wine lists, analyzing inventory for profitability, assistance in staff hiring and management, working with brands, back bar analysis, bar build-outs, strategic development, and implementation, and marketing & public relations all fall under my umbrella. I am also happy to work outside of the box for the good of the entire concept. Suggestions for the food component, staffing of other parts of the operation, special events, etc. Ultimately, I want to be proud of the operation from the moment that the guest steps onto the property.
What questions would you ask the bar owner before you plan your sales growth strategy?
As the owner, What are your goals with this bar – Style and Vibe, What is your ideal / target clientele, and How does this fit in with the beverage program you want to implement, from types of cocktails, beer/wine/spirits program, down to the music being played?
Then, what are the financial goals for this bar? Are you aiming to be an industry-recognized, destination bar, or a staple neighborhood bar? What do you think success for this bar looks like? It is very important to land on or near the same page on these foundation items to become potentially successful partners.
How can suppliers work with you to drive sales?
I, fortunately, have close associations with the major suppliers for the metro NYC area and have ordered extensively from them throughout my career and at the Waldorf Astoria. I continue to have strong relationships with my suppliers that can sometimes bring light on new or improved items that can help drive sales.
It also doesn't hurt to keep an open mind. For instance, at The Lexington Hotel, in partnership with a brand and distributor, we had a Champagne vending machine installed in the lobby. At first, I had some doubts regarding the success of the concept, but it proved to be an exciting selling point and a torchbearer for the activation on other properties nationwide. I remain proud of the result.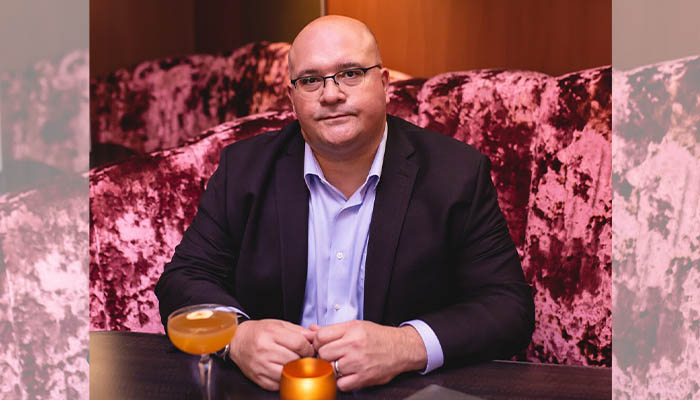 Frank Caiafa, the author of Waldorf Astoria Bar Book, a James Beard Award Nominee
Give us an example of a profitable bar menu program with examples of names and why you have them.
I think that as a menu creator, you must start with interesting items and a general concept first. Profitability can only be achieved if you have something exciting to offer. I am currently the Consulting Beverage Director at M Social Times Square and we offer a New York State-focused cocktail menu. Some items are:
Theater District Manhattan
New York Distilling Co. Ragtime Rye, Noilly Prat Sweet Vermouth, Greenhook Ginsmiths Beach Plum Gin Liqueur, Simple Syrup, Regan's Orange Bitters
This is the classic 'Manhattan' enhanced with NY's own Greenhook Ginsmiths Beach Plum Gin Liqueur, made with plums from Long Island's beaches. This also features a local Rye whiskey as its base. Having local items proves to have an attractive appeal to our hotel guests.
Rooftop Celebration
Belle de Brillet Pear Liqueur, Black Dirt Apple Brandy, Regan's Orange Bitters, Prosecco
Seasonal sparkling cocktail featuring both apple and pear brandies. Although not composed completely of local ingredients, there is a local flavor to pique interest and at its base, it is an intriguing variation of a classic Champagne cocktail.
What do you look for items that qualify for house pour?
Versatility. Not only should it be pleasing in a cocktail that would possibly hide any minor flaws, but it must also be enjoyable on its own or lightly adorned. Then Cost can enter the picture.
What are the four main things you focus on daily in your role?
1. Proper service – Ensuring that the team realizes that this is our priority at every level.
2. Training – Being present to not just hold staff training sessions but fill in holes in less formal ways. Sharing my experiences whenever I can to make the entire team better at what we do.
3. Education – Keeping my fingers on the pulse of the hospitality and beverage industry at large and looking at how I can incorporate successful trends and beneficial adjustments into our concept if applicable.
4. Improvement – In every aspect of the operation. Just because my official focus is on the bar, it doesn't mean my opinions in other areas are not valid.
I enjoy working with teams that cross-pollinate information. Also, in a larger sense, finding ways to improve my personal and professional life is important because of how developing great habits can carry over to all other aspects of our daily lives.
5 ways to upsell drinks at the bar?
In general, I would prefer that the staff focus on the current cocktail menu as a lot of time and thought has gone into it. It also helps with the PR of the program if more guests take to social media and showcase the cocktail menu. In the market that we are in, upselling brands is not a priority as we already use high-quality brands, to begin with. I would say that providing a friendly environment so the guest is comfortable enough to enjoy a second cocktail and something to nibble on or to visit the bar once a day during their stay, would be a preferred way of upselling our bar.
1. For guests that walk in and ask for a scotch on the rocks, sometimes suggestively selling one of our spirit-forward cocktails from our list provides an interesting opportunity for conversation and interaction with the guest as well as an opportunity for them to break their routine memorably.
2. Training our staff on wine provides them with an opportunity to give guests options when they come in and say, Give me a chardonnay. Telling them about a delicate white Burgundy in contrast with an oaky, buttery California Chardonnay can create opportunities for our guests to really find items they enjoy and come back again.
3. Likewise, good spirits training with our staff always proves to increase sales – the more they know about the back bar, the more they can make informed sales and lead guests to try new, exciting products.
4. Providing quality cocktails can at times be its own way of upselling. My research has found that guests who try a cocktail from the list and enjoy it are willing to come back and try more cocktails from it, even though they might be unsure of what some of the ingredients are or have an unfounded aversion to a particular spirit (e,g., Gin). You might turn on a guest to Mezcal just by having a quality mezcal-based cocktail on the list.
5. Nothing beats interactive hospitality at upselling. A simple conversation with your guest can go a long way to giving them just what they need at the bar. Don't be afraid to engage with guests, not just to sell them something, but to spend a genuine, even if quick, moment with them. They'll be back.
Tips on training new bartenders
The best advice I can give is not to make your training program a cookie cutter. There is a huge difference in training eager, less experienced but ultra-engaged staff and bar staff who has spent decades on one property and who only know what their venue has presented to them over the years.
You must tailor not only your content but your approach to each group and individual. It is also one of the things that I take enormous pride in. Keeping each team member engaged enough to think about their role in the bigger picture and how we can all improve daily.
What are the drinks trending in your country? Cocktails, brand names, categories?
As for cocktails, it seems stirred recipes served in a coupe glass with a giant ice cube in the middle seem to be all the rage. Not something that I recommend.
As for brands, it remains "Casamigos" and all things agave.
What's customer service to you?
Customer service is a subject that rightfully receives a lot of lip service but at the end of the day, I think it boils down to this: The consistent ability to provide an experience that makes the guest begin to think about their next visit even before they leave the current one.
Define a good bartender.
A good bartender is a well-rounded person in general. Ideally, they have traveled a bit, they're familiar with global cultures and are not pigeon-holed into an antiquated mold of what someone thinks a bartender should be. They don't get caught up in any staff drama. Their focus is on their guests. As I mention in my book, and as my late friend and mentor Gary Regan would say, they are 'mindful' of their environment. They are hosts on a nightly basis. They can serve drinks promptly but also maintain their bar, manicuring it regularly, almost as if second nature. A passing word or two to a regular, a welcoming comment to a new guest. All these things are seamless to the seasoned professional. Keeping an even keel throughout their shift, promoting what the house represents, all while genuinely and pleasantly hosting an evening in their living room, which is what a good bar is to a good bartender.
How do you manage non-performing brands?
If we carry a brand that doesn't have a built-in audience, I think it is interesting and worthy of a spotlight at a bar I manage. I make sure that the staff is aware of the reasons for its inclusion. That includes education of the brand, tasting of the product, and why it is a good piece of our service table.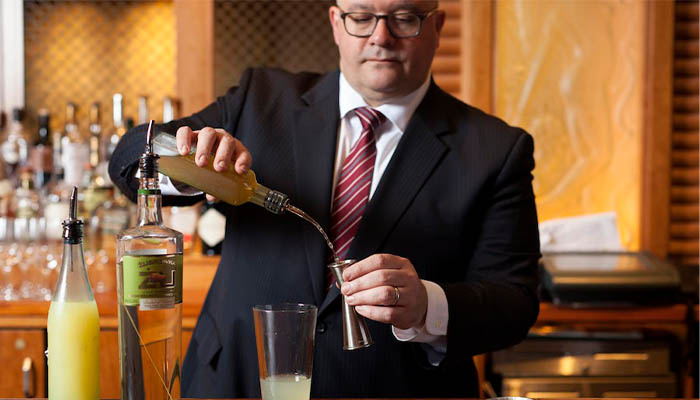 Frank Caiafa concocting a cocktail
How can you increase your beverage sales with the selection you already have?
I have inherited more inventory than I care to mention while opening operations. Unless items are completely outdated (Acai Blueberry Vodka anyone?), I can usually find an outlet that makes some sort of sense for the current concept. Now that may mean waiting a season or two to include it on our menu but by and large, most of the products produced today are well made and can be useful at some point if you're creative and patient enough.
How, according to you, has the role of the Bartender evolved, especially now during Covid times?
Balancing the need for safety and human interaction is the main hurdle. If you live in an area that has the best interests of its residents at hand, the hardest part is handled for you in the form of regulations and evolving health codes. I think in a less regulated area, it's much more of a challenge to manage business flow while keeping your staff and guests as safe as possible.
What else do you look for in a brand before saying yes apart from quality, value, and package?
Does it fill a new hole? Can I utilize it uniquely and possibly in more than one way? Does it do something that has never been done before? Is it priced correctly?
Give us an example of a common problem in the bar business and how you handle it.
Staffing is currently an issue in NYC and I've made it a point to try to help fill colleagues' needs however I can. Fortunately, I have been around a long time and involved with many operations which have expanded my contact list. I have been fairly successful in putting the right pegs in the right holes and helping all tiers of staff find new and successful matches for their skillset and experience. I find it very rewarding.
Your favorite places to enjoy drinks.
Since we've been able to go out to bars again, I've made it a point to help support my local bars and restaurants. Some of my favorite local bars in Williamsburg, Brooklyn are The Richardson, The Shanty, Ba'sik, and Nightshade.
What's the best and worst part of your job?
I have been extremely fortunate to find a creatively rewarding position right as businesses were opening back up, so the best part was just getting back into doing what I do for a living, meeting new staff, and doing my best to help them evolve, grow, and learn in their positions. The worst part is not knowing what the future holds for businesses going forward but I remain optimistic as we move into a new year.
Interviewed by Prithvi Nagpal, Editor & Sommelier at Beverage Trade Network
Get In Front Of Leading Bartenders and Grow Your On-Premise Presence. Enter Your Brands Before the Early Deadline Is January 31, 2024, and Save.